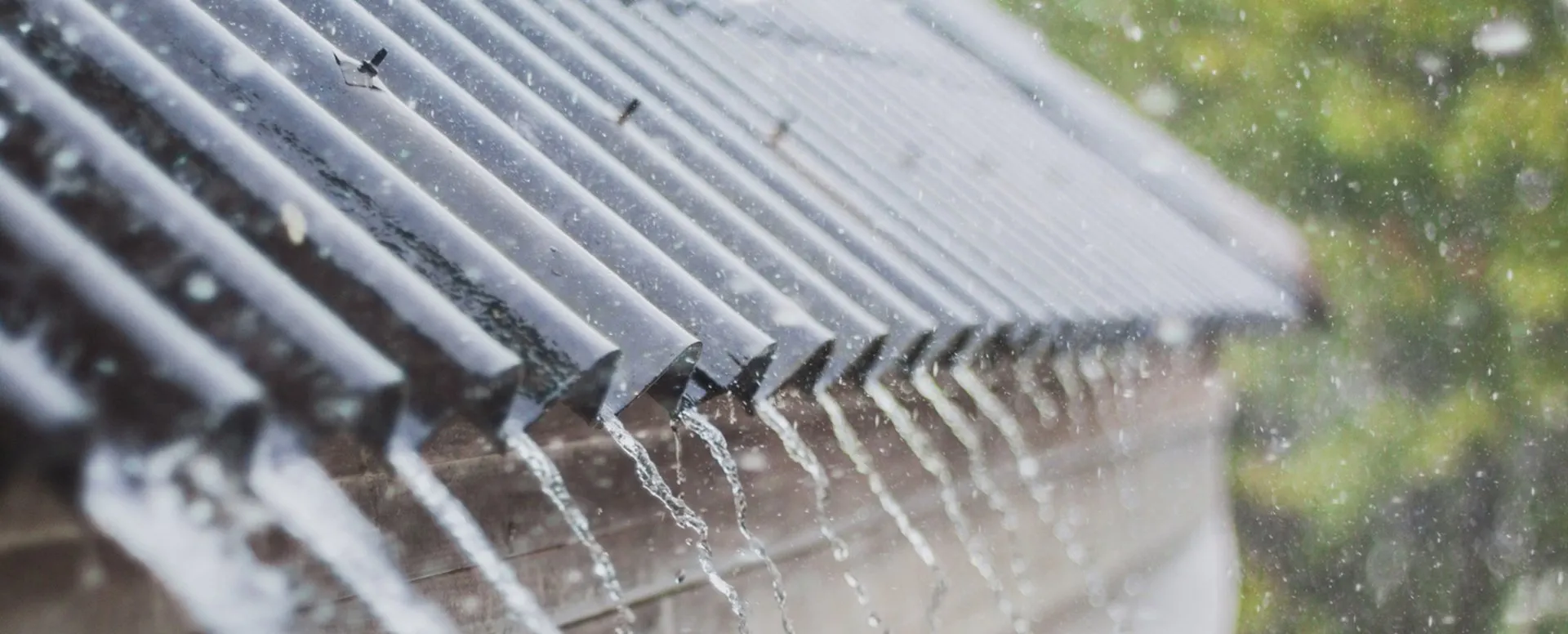 Many homeowners may not realize this, but the wellbeing of your Kansas home's roof, gutters & foundation go hand in hand. If your gutters & downspouts are not in good condition, you can run the risk of your roof or even your foundation becoming damaged. Damaged, broken, missing or clogged gutters & downspouts can lead to potential water damage in your home. The roof & foundation of the home are the ones that are going to be taking the most damage, depending on the location of the issue with your gutters. Proper gutter maintenance can go a long way when it comes to preventing structural damage to your home.
The purpose of gutters in any property is to protect the foundation of your Kansas home from water intrusion, decay & erosion. Downspouts direct water away from the base of your home, preventing water from pooling around the foundation. Keeping your gutters & downspouts in good condition means to clear out any clogs found within the gutters & to repair gutters & downspouts when they are damaged. Additionally, check to make sure that gutters and downspouts are secured properly to the sides of your home. A loose gutter can make way for water intrusion without you even noticing. This can lead to mold issues within the home.
Keep Your Gutters & Downspouts Running Smoothly
It is important for Kansas homeowners to maintain their gutters and downspouts on a regular basis to ensure that water is efficiently directed down and away from their homes. Debris clogs gutters and downspouts on a regular basis. In the winter, the water that pools in your gutters begins to freeze over, making gutters and downspouts much more difficult to maintain. When winter gives way to spring, it's important to check and clean your gutters on a regular basis. If your gutters get clogged, water will back up and flow under your roof or onto your siding, causing water intrusion. This can cause serious damage to your roof, especially if you are unaware of the leak. Leaks that go unnoticed can lead to secret mold issues in your roof and attic. Water will pool around your foundation walls as a result of gutter backups, putting your basement or crawl space at risk.
The Effect Gutters & Downspouts Have On Your Roof
Poor gutter and downspout maintenance will expose your Kansas home to severe water damage and costly repairs. Setting aside some time a couple of times a year to clean your gutters and downspouts is well worth it. Cleaning out your gutters and removing any debris that could cause blockages is important. Water may become trapped in your gutter as a result of these blockages, rather than flowing out of the downspout. A clogged gutter will gradually leak onto your roof, causing damage to not only the roof but also the shingles and attic walls. Mold will grow as a result of water leaks in your roof. Since a new roof is such a large investment, you'll want to keep it in good shape for as long as possible. Maintaining the functionality of your gutters and downspouts is an excellent way to keep your roof in good shape. It's also important to have the roof inspected on a regular basis. That way, if there are any possible problems, you'll have a better chance of finding them early enough to fix them.
The Effect Gutters & Downspouts Have on Your Foundation
Gutters and downspouts are designed to be secured to your building. Problems may occur when they become loose or unstable. The redirection of the downspout is one of the most serious problems with a loose, unstable gutter. A downspout, when in good working order, should direct water away from your foundation walls. You run the risk of water flowing directly through your foundation if a downspout is disconnected from the structure. This water could wreak havoc on your foundation walls. As previously stated, these leaks can result in mold issues as well as other issues such as building material erosion.
Gutter & Downspout Maintenance Tips For The Spring
There are a number of things you can do to keep your gutters and downspouts in good shape this season. Maintaining the rest of your home, especially your outdoor landscaping, is an excellent place to begin. As much as possible, you'll want to keep your landscaping under control. Keeping trees and bushes away from your house helps to keep the amount of debris that gets into your gutters to a minimum. Moss and algae can grow on your roof shingles due to the shade provided by trees and bushes. Your roof shingles can deteriorate as a result of the shade and moisture. We recognize that these bushes and trees have a pleasing appearance. If you must maintain your trees and bushes, make sure they are cut away from your house to avoid debris accumulation in your gutters. These spring cleaning essentials will not only help keep your gutters safe, but they will also help prevent mold. If you believe your gutters and downspouts are causing problems in your house, you can contact a professional who can help you. Climbing to the roof on your own can be risky. That being said, spring cleaning is crucial, both inside and out! You want to make sure that your house is in the best possible shape at all times.