Mold growth can be a serious concern for residential and commercial properties, posing health risks and compromising the structural integrity of buildings. Our expert team of certified professionals at Lamunyon Mold has the knowledge, experience, and state-of-the-art tools to efficiently assess, contain, and remediate mold infestations. Committed to delivering prompt, reliable, and effective solutions, we strive to create safe, healthy environments for our clients in Manhattan, Kansas. Whether you are dealing with a small mold problem or larger-scale contamination, trust us to provide comprehensive remediation services tailored to your specific needs.
DIY Mold Hacks Vs. Hiring A Pro Mold Specialist
After a humid spell in Manhattan, Kansas, many older or poorly maintained homes are susceptible to mold growth. Within as little as 48 hours, mold with a moisture source can spiral from acceptable levels to unacceptable, posing a future risk of deeply embedded growth. Once spores have been rooted in porous materials like wood or drywall, it can be impossible to contain them without eliminating moisture sources and employing professional help. DIYers can dive right in, scrubbing and hacking away at any visible mold. Not only is this sort of approach potentially dangerous to your health, but it is also highly unlikely to be permanently effective at remediating mold! Not all mold will be visible; even trace amounts can act as a springboard to repeatedly bring the problem back.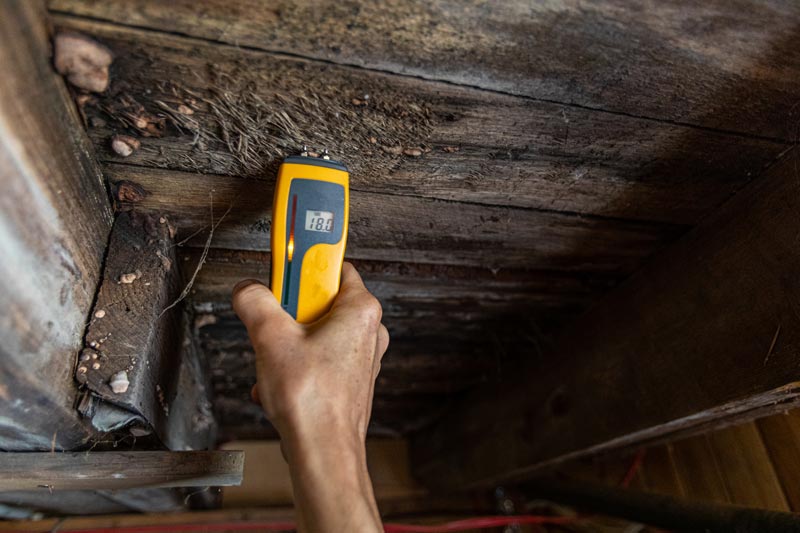 Professionals Approach Mold Remediation With Care And Safety
Mold remediation can be particularly challenging, but it is not rocket science or brain surgery. An effective remediation professional should be able to lead you through the hoops of mold removal while communicating strategy and documenting processes at a reasonable price.
While high overhead costs for labor, equipment, and insurance (we are dealing with hazardous materials, after all) should be baked into the sticker price to some degree, communication should not be considered a throw-in or an extra! No good contractor or professional, licensed service should keep secrets from you about your own property. Clear communication of strategy and service should be upfront and ongoing.
The Advantages of Utilizing Mold Remediation Professionals
Here are a few of the advantages you will get when you hire a specialist professional for your mold remediation needs:
Safety Gear – Licensed professionals will have their own proper safety gear and industrial-grade equipment, such as HEPA (High-Efficiency Particulate Air) scrubbers, HEPA vacuums, and commercial fans or dehumidifiers for ventilation and moisture reduction. These can be expensive to rent and confusing to operate if you are inexperienced.
Experience – Professionals also have the experience and know how to determine what they are against. While there are heaps of mold spores naturally occurring in most environments, including your home, they are rarely dangerous or floating above what the EPA considers acceptable levels.
Testing – But what if you are on the fence after flooding, leaks, or even just a high-humidity day? Remediation specialists should be able to determine, through both visible inspection and more thorough testing, how far your infestation stretches.
Examination & Containment – A thorough examination should include things like surface tape tests or air quality sampling. Depending on the nature of the chosen tests, results can reveal the specific mold variety in your space and the quantities in which it is present. Well-run, well-documented tests should also lead to comprehensive assessment strategies like moisture mapping and thermal grading to fully determine the scope of the problem.
Again, the goal is not just to eliminate the unacceptable mold levels but also to keep that mold from returning.
Mold professionals understand the process. Quality professionals are prepared to contain an affected area. Containment is critical in preventing the further spread of spores or mold dust during the cleaning process (an all too common issue for DIYers and amateur handy-persons).
After Testing and Containment, What Happens During Mold Remediation?
Once professionals reach the point of remediation, any mold pro worth their weight should be focused on reducing the presence of mold and returning air quality to EPA-determined acceptable levels, both immediately and for the long haul. They consider the right tools for the job according to each affected area:
Surfaces. Surfaces should be scrubbed with professional-grade moldicides or cleaners.
Contaminated Materials. There is no need to bring in a wrecking ball. Careful, targeted demolitions are often the most effective way to remove mold. The most porous, inexpensive building materials that have been infested such as drywall, baseboards, and insulation are likely to be cut away and removed from the property entirely.
Air. After removal and the scrubbing or sanding away from sources of growth, remediation of the air is done using HEPA air scrubbers and exchangers. The goal is to ventilate away moldy air and replace it with cleaner air.
Final Touches. Finally, antimicrobial chemicals are applied to spot clean any remaining stains. Sealers are then sometimes used to coat any treated surfaces, making them more resistant to future moisture absorption and thus reducing the likelihood that unwanted mold returns.
How Long Does Mold Remediation Take?
There is no way around it; the process is a hassle, but mold remediation only takes at the most – 1 week and at the least – around 5 days. But what could be worse than mold remediation specialists coming and going, tracking through your house? A house full of mold! While mold remediation can disrupt your day-to-day routines, from mold assessment to removal, the whole thing is unlikely to require more than a few days. Of course, each space is unique, and some places may take longer, but an experienced professional should be able to indicate as early in the process. When time is money, and your health is on the line, compare professionals.
Contact Lamunyon Mold For Mold Remediation Services in Manhattan, KS
We're available every day of the year to take care of your damage restoration needs! Call us today or book an appointment for a free mold service in your property. Our entire process includes and will provide services in Manhattan for Mold Removal, Dehumidification, Mold Assessment, Mold Inspection and Mold Testing.