Professional Mold Testing Service in Manhattan
No homeowner wants to think about testing for mold, but you have to be prepared when you live in the midwest. The warmer, more humid days across seasons are when homes are most vulnerable.
If there is a growing suspicion that your home might be hosting an unwelcome guest, you may start kicking around questions like, "When is the right time to test for mold?"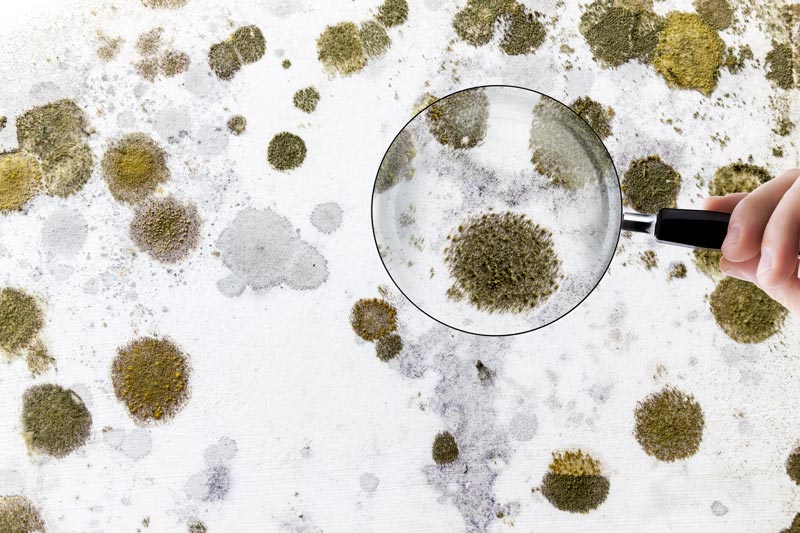 It becomes an obvious decision when you have more concrete proof of mold in your walls, but being proactive can save you time, money, and stress. Long before there are obvious, visible signs of mold, there are more easily-missed signs.
We recommend scheduling a mold test if any of the following situations apply to you:
When you smell a musty odor but cannot find its source. When mold grows and reproduces, it gives off a pungent and musty stench even if there are no visual symptoms. It can linger in your walls for weeks, months, or even years before the first visible signs appear. Getting your home tested regularly and in a timely fashion, can save you quite the headache.
If you have been experiencing water issues or plumbing leaks. Because moisture accelerates mold growth, test your home after your basement floods or a kitchen or laundry appliance overflows. Basements and crawl spaces that have not yet been waterproofed are vulnerable to buildup of moisture that can go years without being noticed. To prevent a future mold infestation, homeowners should prioritize fixing water damage alongside testing for mold afterward.
During real estate transactions. Getting a mold test done before selling a home will prepare the future owner for any potential problems down the road. Additionally, having an expert verify that a house is free of unusual mold activity can give the prospective owner peace of mind.
If residents begin having health issues with no apparent cause. Mold infestations have been known to trigger health issues in some of those exposed to them. Mold spores can trigger symptoms, and long-term exposure can lead to a person becoming hypersensitive to them. A number of these unwanted symptoms, such as respiratory issues, congestion, and skin irritation, can continue to occur after ongoing exposure as well.
Unusually high humidity inside your home. When you've noticed that the air feels unusually muggy, it could be a sign that your home has poor ventilation or a buildup of moisture somewhere. It's worth checking the tiles around the shower and stove, two places that give off a lot of steam, for any signs of mold. If you go too many days with high humidity indoors, mold has a chance to take hold. A quick, temporary solution can be investing in fans and opening windows. But even then, it's essential to be on the lookout for mold via testing.
How We Test for Mold
We typically begin with a visual inspection. This method is both non-intrusive and tells us a great deal about how far any mold has progressed. If we cannot visually confirm the mold infestation inside your home, we move on to the next level of tests.
When we move on, we continue with thermal imaging. This technique helps us map out the location of the mold by identifying which parts of your building material are unusually cooler. Because mold requires a buildup of moisture to grow, the material it consumes will be damper and lower in temperature.
Additionally, we can incorporate laboratory testing upon request. This level of confirmation includes surface testing and air sampling. Surface testing using swabs and bio tapes can help us identify mold types, but they give us less information about the placement and size of the mold infestation in your home.
On the other hand, air sampling can give us a broader picture of your environment. Air sampling can confirm the presence of mold, its type, and the number of spores in the air.
Both air and surface testing are additional services offered upon request when there is suspicion of mold.
Save Yourself Trouble Down the Line and Call Lamunyon for Mold Testing Today
The first step to solving your mold problem is understanding the full extent of the infestation. You learn a lot about how mold works when you've been in the mold business as long as we have. You also learn how to deal with it the right way.
Lamunyon Dry Out and Foundation Repair have certified and experienced staff ready to help fight your mold problem. We are locally owned and serve Manhattan and the greater north-central Kansas with integrity and compassion. In business since 1973!
We offer 24-hour phone service to all customers and potential customers. We know that water damage emergencies don't only happen during the workday. Our friendly, caring staff is excited to help you, and our certified technicians are available to respond to your water damage emergency.
If you have any questions about our mold services in Manhattan or throughout north Kansas, do not hesitate to contact us. We are available for water damage emergencies 24/7 by phone at 785-503-3327: