Are you and your family in the market for a new Manhattan home? Are you a current property owner in the middle of restoring an old building, stressed with more than you can handle? When making big decisions with high-value investments, we know that a second set of eyes can go a long way toward making informed choices. No homeowner wants to think about testing for mold, but you have to be prepared when you live in the Midwest. And as professionals with years of experience, we are happy to provide you with a more comprehensive picture of mold assessment and inspection.
If there is a growing suspicion that your home might be hosting an unwelcome mold guest, you may ask questions like, "When is the right time to test for mold?". Moreover, the question then comes into how to test for mold and where to get it tested. Lamunyon Mold covers you for all professional and decisive mold testing & inspection needs in the Manhattan, KS area. All you need to do is give us a call, and we will provide you with the necessary equipment and team to test your space for mold infestations.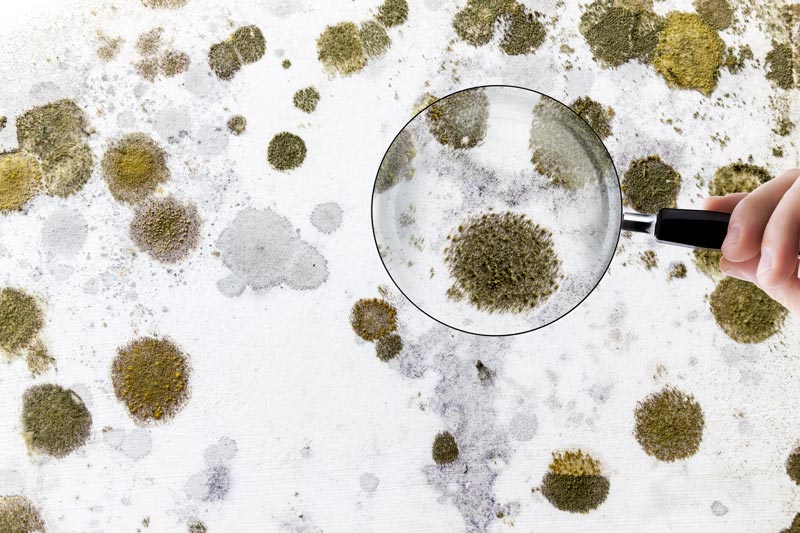 When Is The Right Time To Get Your Home Tested For Mold?
It becomes an obvious decision when you have more concrete proof of mold in your walls, but being proactive can save you time, money, and stress. There are more easily-missed signs before there are obvious, visible signs of mold.
We recommend scheduling mold testing in Manhattan, KS  if any of the following situations apply to you:
When You Smell A Musty Odor: When mold grows and reproduces, it gives off a pungent and musty stench, even without visual symptoms. It can linger in your walls for weeks, months, or even years before the first visible signs appear. Getting your home tested regularly and quickly can save you quite a headache.
If You Are Experiencing Water Issues Or Plumbing Leaks:  Because moisture accelerates mold growth, test your home after your basement floods or a kitchen or laundry appliance overflows. Basements and crawl spaces that have not yet been waterproofed are vulnerable to buildup of moisture that can go years without being noticed. To prevent a future mold infestation, homeowners should prioritize fixing water damage alongside testing for mold afterward.
During Real Estate Transactions: Getting a mold test done before selling a home will prepare the future owner for any potential problems down the road. Additionally, having an expert verify that a house is free of unusual mold activity can give the prospective owner peace of mind.
If Residents Have Unidentified Health Issues : Mold infestations have been known to trigger health issues in some of those exposed to them. Mold spores can trigger symptoms, and long-term exposure can lead to a person becoming hypersensitive to them. Some of these unwanted symptoms, such as respiratory issues, congestion, and skin irritation, can continue to occur after ongoing exposure.
Unusually High Humidity Inside Your Home: When you've noticed that the air feels unusually muggy, it could be a sign that your home has poor ventilation or a moisture buildup somewhere. For any signs of mold, it's worth checking the tiles around the shower and stove, which give off a lot of steam. If you go too many days with high humidity indoors, mold has a chance to take hold. A quick, temporary solution can be investing in fans and opening windows. But even then, it's essential to be on the lookout for mold via testing.
Uninhabited Home: Any house that has been uninhabited for a month or longer should be inspected, especially in areas that are subject to intermittent bouts of extreme heat or high humidity, like Manhattan, Kansas. Even new homes deserve a critical eye, especially when comparing choices or preparing to make a big purchase. Without the history of the house, why run the risk of waiting to discover an infestation until after you move in?
How Does Mold Testing Work, And Is It Effective?
Here is a walkthrough of the process of mold testing we follow in Lamunyon Mold. This will give you an idea of how mold testing works and how it will benefit the overall mold removal & remediation process providing us with the necessary base for a long term mold removal solution.
Visual Inspection – We typically begin mold testing in Manhattan with a visual inspection. This method is both non-intrusive and tells us much about how far any mold has progressed. If we cannot visually confirm the mold infestation inside your home, we move on to the next level of tests.
Thermal Imaging – When we move on, we continue with thermal imaging. This technique helps us map out the location of the mold by identifying which parts of your building material are unusually cooler. Because mold requires a buildup of moisture to grow, the material it consumes will be damper and lower in temperature.
Lab Testing – Additionally, we can incorporate laboratory testing upon request. This level of confirmation includes surface testing and air sampling. Surface testing using swabs and bio tapes can help us identify mold types, but they give us less information about the placement and size of the mold infestation in your home.
Air Sampling – On the other hand, air sampling can give us a broader picture of your environment. Air sampling can confirm the presence of mold, its type, and the number of spores in the air.
Surface Testing – This is typically performed via swab or tape lift test. These tests are particularly helpful for distinguishing between areas that are merely stained or discolored and areas that are experiencing real mold growth. Furthermore, these tests are great options whenever determining the specific mold type is deemed important. But in general, airborne testing is likely to offer a clearer total picture of potential health risks.
Inner Wall Testing – This may be in order when a preliminary inspection has suggested that mold has penetrated surfaces like walls or ceilings. If mold has embedded through to the interior of these structures, inner wall testing can more accurately reveal the extent of the spread. And thanks to the most current technologies, specialists are able to capture samples from the air pockets behind these surfaces with minimal invasion or damage to your home or property.
Note: Both air and surface testing are additional services offered upon request when there is suspicion of mold.
What Comes After A Mold Test?
Again, all that data is great, but without an expert review, the numbers lack insight. One-size-fits-all recommendations can fall flat. The Lamunyon mold assessment team strives to comprehensively interpret any inspection and testing work performed by our specialists to create a removal strategy that best fits your unique circumstances. Our goal is to identify and locate the reason for your mold infestation and uproot it from surface to source.
Through our careful assessment, we can better recommend a complete mold removal strategy according to your needs. Furthermore, we believe any truly effective assessment will be a well-communicated assessment. For that reason, we provide a synopsis of our findings alongside an estimated scope of work, and then we determine the best course of action and recommendation to prevent any repeat mold from returning in the future.
Call Lamunyon Mold Testing In Manhattan, KS Today
Lamunyon Mold has certified and experienced staff ready to help fight your mold problem. We are locally owned and serve Manhattan and the greater north-central Kansas with integrity and compassion. In business since 1973!
We offer 24-hour phone service to all customers and potential customers. We know that water damage emergencies don't only happen during the workday. Our friendly, caring staff is excited to help you, and our certified technicians are available to respond to your water damage emergency.
Please contact us if you have any questions about our mold services in Manhattan or throughout north Kansas. We are available for emergencies 24/7 by phone at 785-503-3327. Our mold services cover more than just mold testing, including the following mold services for the area.