Mold is already problematic and confusing enough, thanks to the large number of varieties, dangers, and treatments. On top of that, the use of industry-specific jargon such as "mold remediation" can leave Kansas property owners feeling even more daunted when beginning to tackle an unwanted infestation problem after a rainy day.
For any mold-related issues you are facing in Topeka, KS, Lamunyon Mold is here to help. We are experts in mold removal, inspection, assessment, testing and more!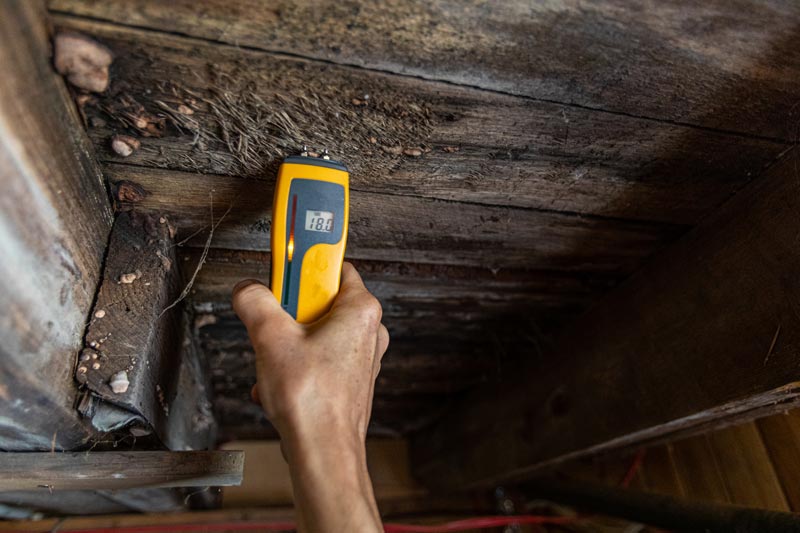 Mold Removal VS. Mold Remediation: A Professional Long-Term Mold Solution
You can scrub mold from the walls or chop a piece of moldy wood from the attic and throw it in the trash, but unfortunately, that mold is very likely to return. When you are ready to hire an expert, understanding the key differences between mold removal and mold remediation can help you ask the right questions as a property owner. Researching services and communicating with professionals should be clarifying, not confusing.
Of course, removal makes sense, and that is where you want to start. That impulse for removal exists when you discover any mold in your home. But mold is naturally occurring, and some level of growth is likely to exist in every environment. Total removal is unreasonable and often impossible. Furthermore, mold is very resilient, and if spores and roots have already reached unacceptable levels, then any amateur mold removal efforts are likely to come up short. An inexperienced removal plan might only be surface-level, resulting in mold returning to your home. Not all removal approaches are created equally, and depending on the underlying cause of your infestation, a more strategic, tailored plan of action may be required to ensure long-term success.
What Is Mold Remediation, And How Does It Work?
So what is mold remediation? The terms remediation and removal are often presented interchangeably. To avoid any confusion, be sure that professional services are prepared to clarify.
Given below is the step-by-step insight into the mold remediation process followed by Lamunyon Mold.
1. Set Inspection Goals: Remediation Starts with Inspection and Containment

The goal of remediation should be to clean contaminated areas until they reach acceptable air quality levels while protecting non-contaminated areas from mold spores or new growth. Solving any mold problem begins with understanding the scope of the problem. To build a mold remediation strategy with a strong foundation, careful companies will follow an initial visual inspection with a more thorough equipment-driven assessment. That thorough assessment could include techniques such as thermal readings, moisture mapping, or air sampling. Layering inspections and assessments should provide clearer boundaries for developing a containment strategy. Remember – mold is alive! It is trying to grow and spread. Any areas deeply affected by mold should be contained to prevent further spread during removal steps.
2. Figure Out The 'How' Of Mold Removal:
Within these stages of cleaning and containment, remediation should get into the "how" of mold removal. It is a multi-step process, never promising total removal but instead communicating a specific plan of attack for your infestation.
3. Plan To Restore Air Quality With Removal:
True mold remediation should encompass not just the elimination of rapid growth but also the restoration of air quality to any affected areas for the long term.
4. Containment And Cleaning:
Remediation covers all the procedures applied to eliminate damaging mold growth, including the containment, cleaning, and in some cases, demolition necessary to eliminate unacceptable mold levels.
5. Final Testing and Re-Testing Of Affected Area:
To top it all off, remediation should be met with the testing and re-testing of an affected area after removal to grant lasting peace of mind and ensure remediation methods have worked. Of course, at this point there should be no patchy discoloration or staining from visible mold. But even in an area that appears clean, it can be impossible to determine whether mold has been remediated to acceptable levels without careful additional testing. Depending on your property and the extent of your infestation problem, further environmental testing may be intermittently beneficial to verify that mold is not returning. In some cases, strip or surface testing may be enough, though air quality tests that rely on secure samples typically provide the most thorough information. If acceptable levels are maintained in the subsequent weeks and months, then you can rest easily knowing that your mold remediation specialists put together a winning strategy.
What Happens After The Mold Remediation Process?
Mold thrives on moisture. It can take hold anywhere it finds water and organic material. Mold can begin to grow over damp, porous surfaces within 48 hours. Thus it is critical to remove the source of water. Wet or damp areas must be dried. Leaking plumbing systems should be fixed or replaced. Poorly ventilated areas should be properly ventilated. If the environmental factors are addressed, any clean-up is more likely to be a lasting success. In a corrected environment, trained mold remediation specialists should be able to apply tried and true, EPA-recommended methods ranging from HVAC cleaning to dry brushing or sanding to complete debris disposal. Cleaned surfaces and porous materials should be allowed to dry. Extra equipment such as dehumidifiers, heaters, or fans may be used to expedite evaporation.
Emergency Mold Remediation Services In Topeka, KS
We offer 24-hour phone service to all customers and potential customers. We know that water damage emergencies happen during the workday.
Do not hesitate to contact us if you have any questions about our mold removal, dehumidification, mold assessment, mold inspection, and mold testing throughout Topeka, KS.
Our phone is answered 24/7. Call us now: 785-503-3327! Our friendly, caring staff is excited to help you, and our certified technicians are available to assist with your emergency mold removal.
FAQ
Frequently Asked Questions
Mold remediation is the act of removing and/or cleaning surfaces of visible or suspected molds to restore the environment to pre-loss conditions.
Yes! If the environmental conditions that facilitated mold growth are not addressed and repaired, then mold growth can and probably will return.
Mold remediation is considered successful when the environment is brought back to pre-loss conditions. Typically, the indoor air quality, in regard to air born mold spores, should be about the same as the outside when compared to the inside. Visible mold growth should be removed or cleaned from all surfaces.
Typically, you can expect a remediation project to take anywhere from a day or two to a few weeks. This can obviously vary depending on a number of circumstances, such as size of the affected area, accessibility, etc.
In most cases, yes, you can stay in your home during a mold remediation process. But in cases of harsh infestation, the experts will advise you to move based on the degree of the mold infestation.
Lamunyon Mold does not replace any removed drywall, or other building materials. This should be done by a third party of the property owner's choice.
Mold remediation can cost somewhere between the range of $500 to $6000 in Topeka. This can vary widely depending on a number of factors, including size, scope, and accessibility of the remediated areas. Only by doing a thorough inspection can a cost be determined.