When to Test for Mold in Your Topeka Home
When you begin suspecting that your home or commercial building might be hosting mold, you may wonder when would be the right time for mold testing. It can be an obvious decision when you have more definite or likely proof of mold in your walls. However, you may feel something amiss, even when everything looks okay.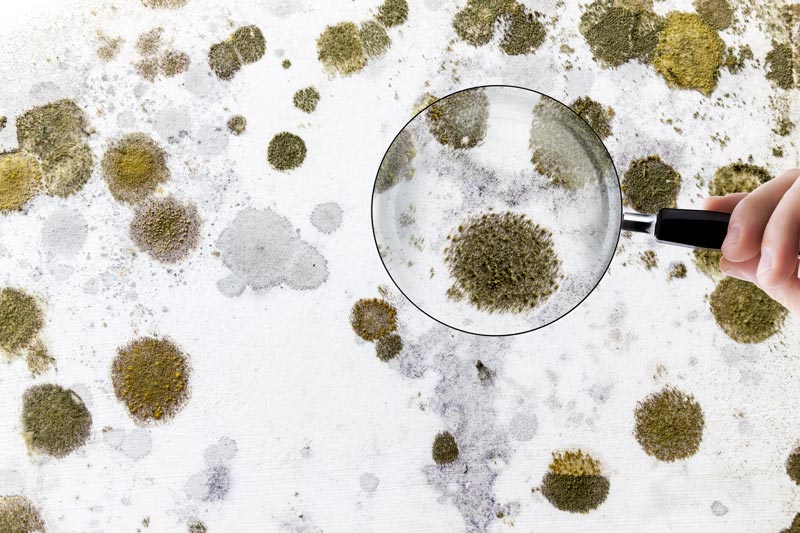 At that point, it can be challenging to decide what to do. Mold removal is a committed process but also choosing to skip a mold inspection could have adverse effects on your home and your health.
We recommend scheduling a mold test if any of the following situations apply to you:
When you do not see mold but can smell it. When you catch the scent of something that smells a little murky with no apparent cause, that could be a sign of mold. A likely sign that mold has invaded your home is the odor. Mold typically grows while eating the building materials inside your walls before you ever get a chance to see it. It can linger in your walls for weeks, months, or even years for you to finally notice the first visual sign.
If you have been experiencing water issues or plumbing leaks. If you see water dripping from anywhere it is not supposed to, then there is a chance that mold starts to grow where you have wet building materials. Flooded rooms and basements are also ideal conditions for mold growth. Preventing mold should be a priority for any homeowner experiencing water damage.
If you or another occupant have been experiencing health issues. In some cases, the presence of mold can trigger a number of atypical symptoms in those with sensitive immune systems or in those who have lived with mold for an extended period of time. These symptoms have been known to range from coughing, sneezing, and headaches to severe asthma attacks. When health issues arise without an apparent cause, then a mold test can inform a medical professional about what to do next.
During real estate transactions. Getting a mold test done before the buying and selling of a house could protect both the buyer and the seller in this situation. It is crucial to have peace of mind when buying a new family home in the long run. Skipping the mold test during the real estate transaction could make for a costly mistake further down the road.
When concerned about the air quality of your environment. In certain situations, such as living with medical concerns or in a densely populated city, you may want to test the air quality of your building. If you have reason to suspect that the air quality may be poor, then the culprit might be mold growth.
You May Also Want Additional Testing During Mold Inspection
When you hire a professional for mold inspection, there are testing options to consider in addition to the examination.
Your mold specialist has the ability to test air samples as well as surface testing. Taking air samples gives us a great deal of information. When taking an air sample to test, we are checking to see if the indoor spore count of your home is higher than it should be. As mold is everywhere, there is an expected amount of mold spores outside and inside your home. Should that count be much higher than expected, then it suggests the presence of mold in your home even if there are no other symptoms.
We can also do another type of testing with mold swabs or bio tape. This method is surface testing. Depending on the building materials, surface testing can be performed behind a wall or above a ceiling with minimally intrusive effort.
Both air and surface testing are additional services offered upon request when there is a suspicion of mold but not enough information to know for sure.
Leaving Mold Testing in Your Topeka Home to the Professionals Can Save You a Headache Later
When you suspect that mold is growing in your home or want to play it safe, then you should call Lamunyon for your mold testing needs.
We are always ready to help you fight against mold growth in your home. If you have any questions about mold, then we are the ones to call.
We have been in business since 1973. We also serve the greater north-central Kansas area. If you have any questions about our mold removal services including mold assessment, dehumidification, mold remediation and mold testing throughout Topeka.
Our phone is answered 24/7. Call us now: 785-503-3327! Our friendly, caring staff is excited to help you, and our certified technicians are available to assist with your emergency water removal.
Our friendly, caring staff is excited to help you.
FAQ
Frequently Asked Questions
Mold testing is a testing method to help determine if an unusual concentration of molds in the environment exists. Testing is also useful when trying to differentiate between dust, soot or molds when visual identification is inadequate.
Mold testing comes in many different varieties including air sampling and surface sampling. Air sampling may be useful for finding unusual air quality conditions whereas surface sampling is more appropriate for spot identification.
Air sampling can be accurate in the correct circumstances. Many environmental variables can affect the accuracy of these tests, however. For example, air purifiers, open windows or doors, particularly dirty environments can all give unusual results that may not be useful when determining if a mold issue exists.
Mold testing should be determined on a case-by-case basis. In many circumstances, testing is not needed when visible mold growth is found.
For the best results when air testing, all doors and windows should remain shut as often as possible 24 hours before testing. Air purifiers should be turned off at least 24 hours before sampling. HVAC system should operate as normal. Limit general cleaning, including running vacuums and dusting before testing is to be performed.
Yes! Many environmental factors including activities inside the home (cleaning, vacumming right before the test, etc) or the weather outside can influence the accuracy of testing.
Molds produce microscopic spores which can easily become air born. These spores ride air currents until they land on a surface. If the surface becomes wet and is also a source of food, the spore can grow into the visible mold we can see with our un-aided eyes. These would be live spores. Dormant spores are spores without moisture but may still be viable and able to grow into visible molds under the right conditions. Some dormant spores can be viable for over 20 years! Dead spores are typically not viable for mold growth. Unfortunately for us, our bodies cannot tell the difference between a live or dead mold spore and can cause health issues in either case.
Mold testing is $75 per sample. Air sampling always requires at least two samples (one outside as a "control" and one inside). Surface sampling can be done with just one sample.