Mold Inspection in Topeka, Do You Go DIY or Professional?
When you start suspecting that you have a mold problem, the first step in the process of removal or remediation is mold inspection.
While you may feel tempted to grab an inexpensive inspection kit yourself, often enough you may find the results lacking. Some kits may test air conditions, but many do not, and even those that do offer variable quality. If you are unsure what to look for or where to begin, then an inspection kit may leave you with more questions than answers.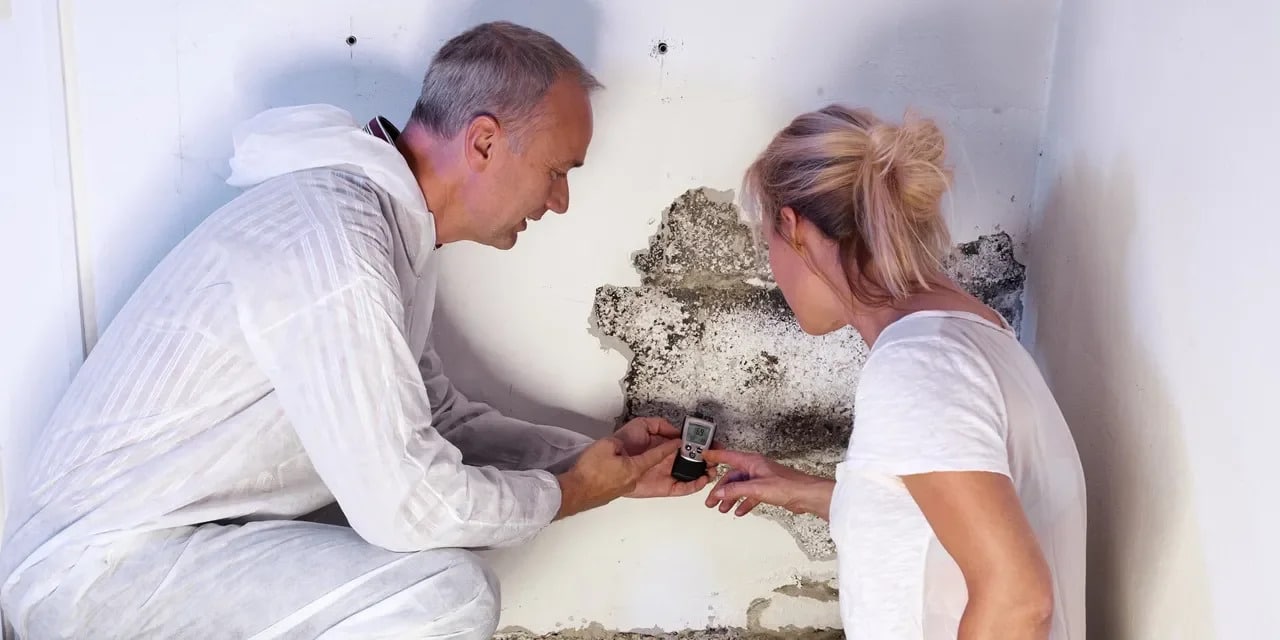 If you find yourself in this situation, your best bet is to call the professionals. Why?
Professionals have gone through this process A LOT. In a field with the potential to greatly impact both your property and your health, experience is a huge difference-maker. Dealing with mold can be a complicated problem, and doing some quick googling only scratches the surface on how to solve it. It makes sense to call in the cavalry when you have a complex job.
If you don't get it all, then you're back at square one. Mold is notoriously resilient when it comes to hiding away in hard-to-reach spots. Anywhere and everywhere that collects moisture is suspect. If you miss a spot during your inspection, then you're letting that mold problem grow worse and worse. A hired professional should account for this by emphasizing a long-term successful result. Their expertise goes hand-in-hand with their thoroughness.
Getting it done all at once saves you money in the long run. The first step to solving any problem is identifying what the problem is, right? You learn a lot about how mold works when you've been in the mold business as long as we have. You also know how to deal with it the right way. Turning something as complicated as a mold inspection into a DIY job takes a temporary, fixable problem and transforms it into a problem that drags on and on. Your time is probably too valuable to be spent moonlighting as a mold removal professional! Let us educate. Remaining in the dark about your current mold situation is likely to hurt your home or building's financial value over time.
What to Expect from Your Mold Inspection in Topeka
When you suspect that mold is starting to invade your home, the best course of action is to be proactive and call a professional. If you are around the Topeka area, Lamunyon is the company for you.
What to expect from your professional mold inspection:
We start off with a visual inspection. Our professionals know the signs of mold growth inside and out, and we are quick to identify the conditions that mold needs to grow. We always do this step first as it brings everyone up to speed. It helps us understand the history of moisture buildup and where mold might have spread throughout the building.
We take notes and share them with you. Everybody learns best when taking notes. If we're going to learn the ins and outs of your mold problem, we need to document and photograph the little details. Once we have finished our assessment, we will share our findings with you so that you know exactly what we have found. You are kept in the loop throughout the entire process.
We can do air sampling to compare the inside mold spore count with the outside. The ideal conditions for mold to grow often involve a lot of moisture exposure. Using mold sampling, we can locate areas of the building with a higher mold spore count, and thus zero in on suspect areas. By determining the actual species of mold, we can perhaps better understand the source and history of the mold contamination.
We determine the source or cause of moisture buildup. If mold grows in unusually damp building materials, then all of that moisture has to come from somewhere. Preventing future mold growth can be as simple as identifying and fixing a leaky faucet, compromised exterior, or exposed roof.
Once we have covered all of our bases, we will compile a summary for you. You get an easy-to-understand mold evaluation as well as information about the scope of work involved to fix it.
Our specialist explains the scope of work for you. What does the scope of work mean for a mold inspection? It is our plan of action for tackling your mold problem. We design a mold remediation plan, which includes the cleanup protocol and preventative solutions that prevent this mold problem from returning in the future.
Finally, we do post-remediation testing if the situation calls for it. Post remediation testing comes after we complete the remediation. Like with any job of this priority, you have to be thorough to ensure the job was done and done right.
Scheduling Your Topeka Mold Inspection Today
Lamunyon has been in business since 1973. If you have any questions about our mold removal, mold assessment, dehumidification, mold remediation and mold testing services in Topeka or would like to talk to a member of our team, do not hesitate to contact us.
Please call 785-503-3327 to schedule a mold inspection.
Our friendly, caring staff is enthusiastic about helping you, and our certified technicians are available for immediate emergency response.
FAQ
Frequently Asked Questions
Stachybotrys Atra (Chartarum), more commonly referred to as "black mold." Stachybotrys is known to produce potent mycotoxins which are a health hazard in some situations. Many other molds found in water damaged environments produce mycotoxins as well.
You can never get rid of ALL molds, but you can control the amount of visible mold growth found in your home. Maintaining a dry environment with good housekeeping is key to preventing mold growth in the first place. But if mold growth is discovered, proper cleaning methods should be used to prevent cross contamination to other areas of the home and to also help prevent mold regrowth.
If you have seen or suspect a mold issue persists in your home, a mold inspection by a trained and certified company should be performed. Musty odors are sometimes an indicator of mold.
A typical inspection is $175 plus additional fees if testing is requested or deemed appropriate. The $175 inspection fee counts toward any remediation or cleaning needing to be done.
Molds typically produce a musty, mildew odor. Think damp old basement smell. Molds can also be identified by shining a bright light down a surface and looking for fuzzy or unusual looking dust. Molds will typically, but not always, grow in round colonies or in blotches. Great places to look include near bathrooms, sinks, tubs and any other areas where water was or is present.
Mold is a natural part of our environment, and some level of mold spores are expected to be found on most surfaces. As such, doing an "at-home mold test" will probably come back positive for mold in most environments, even ones without a mold growth issue! Testing may be appropriate in certain circumstances by a professional that can use their wealth of knowledge, experience and training to help identify actual mold issues in your home.
If visible mold growth is found, an inspection report with remediation and cleanup recommendations as well as an estimate to remediate may be provided. If testing is performed, you will receive a report from the laboratory with their findings.
Stachybotrys Atra (Chartarum), more commonly referred to as "black mold" can be found growing on water damaged building materials in certain circumstances. The only way to verify the existence of "black mold" is to perform laboratory testing. Stachybotrys is known to produce mycotoxins.
This is what the EPA says about black mold:
Some molds, such as Aspergillus versicolor and Stachybotrys atra (chartarum), are known to produce potent toxins under certain circumstances. Although some mycotoxins are well known to affect humans and have been shown to be responsible for human health effects, for many mycotoxins, little information is available, and in some cases research is ongoing. For example, some strains of Stachybotrys atra can produce one or more potent toxins.