The discovery of mold can cause a great deal of stress. Is the mold making me sick? What caused the mold? How do I remove it? Who do I call? The Lamunyon Mold team is here to help. Lamunyon Mold is a licensed and certified mold removal company servicing all of North-Central Kansas. Indoor mold development is a serious problem, and our team is experienced in effectively removing mold from environments like basements, crawl spaces, attics, and living spaces. Whether it is moldy drywall, moldy floor joists, or moldy carpets – our technicians can effectively remove it and return clean, safe, and mold-free conditions.
Indoor Mold Growth & The Importance of Mold Removal
Mold feeds on organic materials like cellulose-based building materials – i.e., wood framing, drywall, wallpaper, ceiling tiles, and more. Once airborne spores come into contact with moisture, mold will develop and feed on nearby building materials. With time, unaddressed mold and moisture will become a major issue, leaving significant property damage and potential health risks.
Mold removal is important because even "dead" mold can be viable and cause health problems. Once a moisture source is introduced, the spores will germinate again and spread. Deeply embedded mold roots require specialized removal to restore clean and safe conditions. DIY mold removal or store-bought "treatments" are often ineffective, leaving behind mold root systems that will continue to be a problem later down the line.
What Does Our Mold Removal Process Include?
The most effective solution for a mold problem is active removal following specific remediation procedures. At Lamunyon Mold, our mold removal process ensures our clients receive the safest and most effective mold cleanup services possible. Our process includes…
Careful demolition and removal of contaminated and non-salvageable building materials.
Thorough removal of surface mold spores with HEPA vacuums
Effective removal of deeply embedded mold roots via oxidative technology.
Application of a mold-resistant encapsulate to aid mold prevention.
All removal is completed under HEPA-filtered, negative air containment to maintain safe indoor air quality and prevent cross-contamination to clean unaffected areas. Our experts also provide valuable recommendations for post-remediation maintenance, moisture control, and future mold prevention.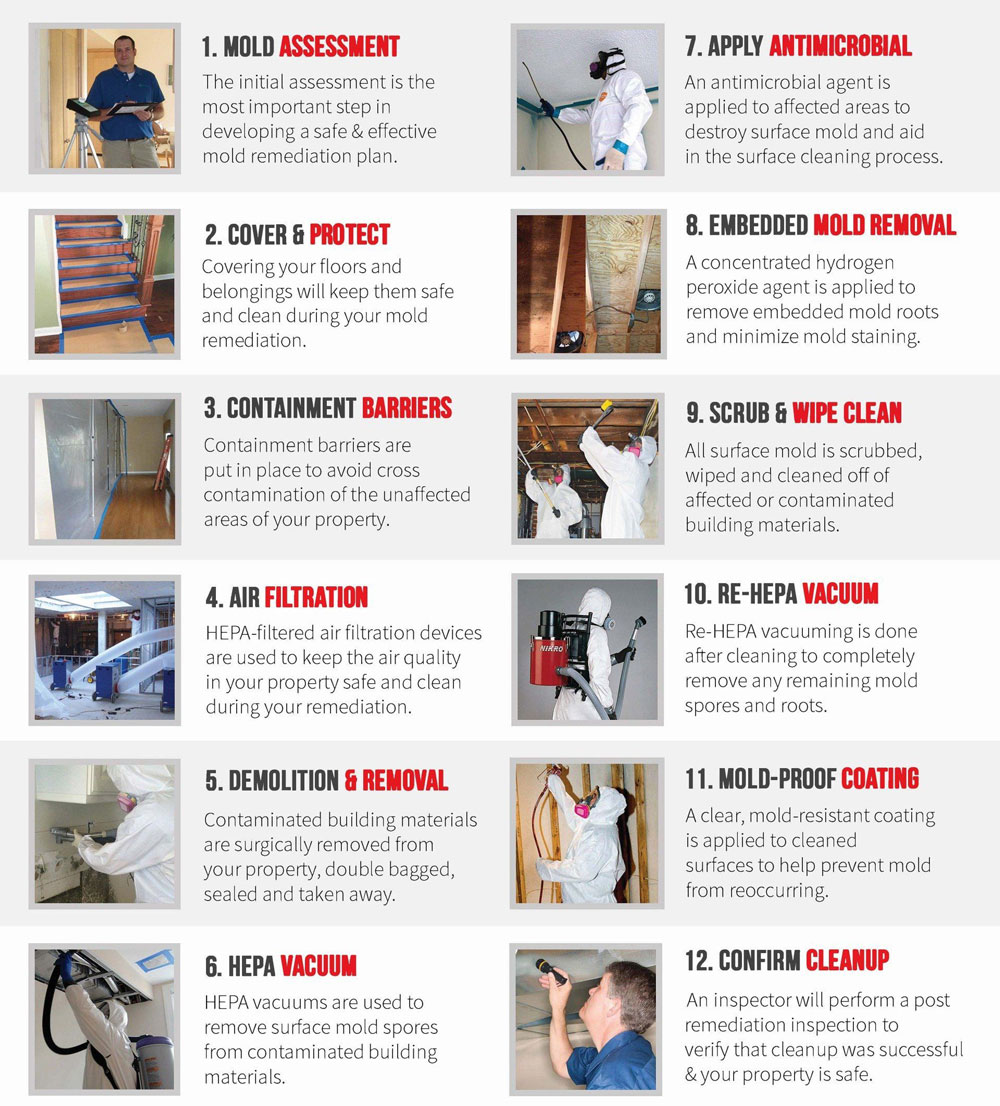 Licensed, Trained & Certified Mold Removal Team In Kansas
The Lamunyon Team has been servicing communities throughout Kansas for years. We have worked with home and business owners throughout Salina, Topeka, Mcpherson, and Manhattan and have become a trusted source for mold cleanup needs. Our team is fully licensed, insured, certified, and trained, and we work hard to deliver the highest quality of services possible to our clients. We understand that the mistreatment of mold can have serious repercussions for our clients and their property, so we have to get it right the first time.
Whether it is attic mold, basement mold, crawl space mold, or other indoor molds — we can safely and effectively remove it. Contact us today for mold removal services in Kansas.